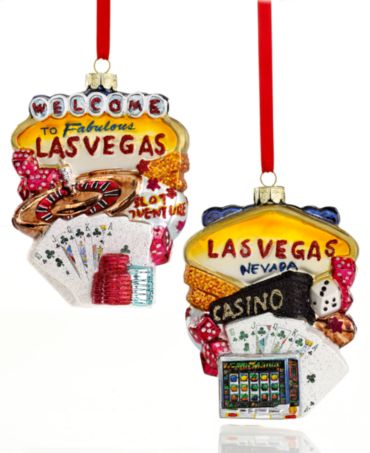 We've featured two ornaments focused on the great city of Las Vegas before– this slot machine ornament and this Las Vegas sign ornament. This Kurt Adler Las Vegas Christmas ornament makes another beautiful option for celebrating America's most sinful city on your Christmas tree this year.
The tall Christmas ornament (found here) is 6 inches tall and is made of glass. Its front features a recreation of the "Welcome to Las Vegas" sign, a roulette wheel, dice, poker chips, and cards. The back has more dice, a casino, more cards, and a cute slot machine. The beautiful ornament hangs from a classic red ribbon.
This Las Vegas Christmas ornament is 50% off until December 24th, so you can find a great deal on this ornament whether you want to gift it or hang it on your own tree.