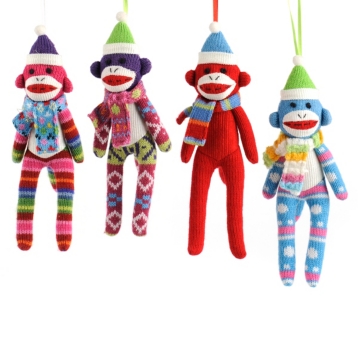 I love sock monkeys, and therefore we've featured a number of sock monkey ornaments this year including this glittery glass sock monkey ornament. This set of four  9 inch tall sock monkey ornaments will make a bold addition to any Christmas tree.
The four brightly colored and boldly patterned sock monkey ornaments (found here) each wear scarves and hang from attached ribbon loops.
These make great gifts or additions to large Christmas trees.
One purchaser of this tall sock monkey ornament set wrote:
These little guys (sock monkeys) are super cute! They are a must have!