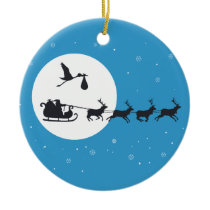 Consider giving your family and friends a cute bauble while letting them know you're pregnant with this cute pregnancy ornament. The ornament (found here) is 2.87 inches tall and hands on a golden cord.  In addition to the circle ornament feature here, it can be bought in a star, heart, oval, or t-shirt shape.
The front of the ornament features Santa's sleigh and a stork flying across a glowing moon and the back states "Santa isn't the only one coming to town. We're expecting!" You can then add the year, so your loved ones can remember when you gave it to them.
Purchasers of this adorable pregnancy ornament have written:
I bought this ornament as a gift to my mother to announce my pregnancy. She loves it. She loves showing it to people and says it is something she will keep forever. Great gift.